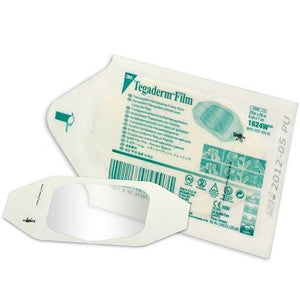 Tegaderm Transparent Film - 1 each
Tegaderm™ Transparent Film Dressings can be used to protect I.V. catheter sites and wounds, to secure devices to the skin and to maintain a moist environment for wound healing. They are breathable, waterproof and act as a barrier to protect against external contaminants including bacteria, viruses*, blood and bodily fluids.
Provides a waterproof, sterile barrier to external contaminants including liquids, bacteria and viruses.
Transparent dressing allows for continuous visibility to the I.V. insertion site.
Adhesive is gentle on skin.
Dressing flexes with skin for greater patient comfort.