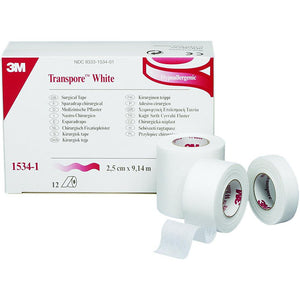 Transpore White Tape
Transpore White Tape, manufactured by 3M, is a white dressing tape that combines all the benefits of the traditional clear transpore and micropore tapes in one convenient roll. 
Transpore White Surgical Tape
 can be used on damp or dry skin, so it is suitable for many uses. This 
Surgical Tape
 is porous and features a bi-directional tear for maximum convenience. Transpore white tape adheres firmly to skin, tubing or dressings for up to 72 hours. The breathable design is created by a blend of porous spun rayon backing. This material is durable enough to stay in place without tearing.
Straight Bi-directional Tearing
Breathable and Porous
Gentle for at Risk Skin
Works on Tubing and Dressings
Stays in Place for 72 Hours
Perforated
Breathable
Water Resistant